SYNERON VELASHAPE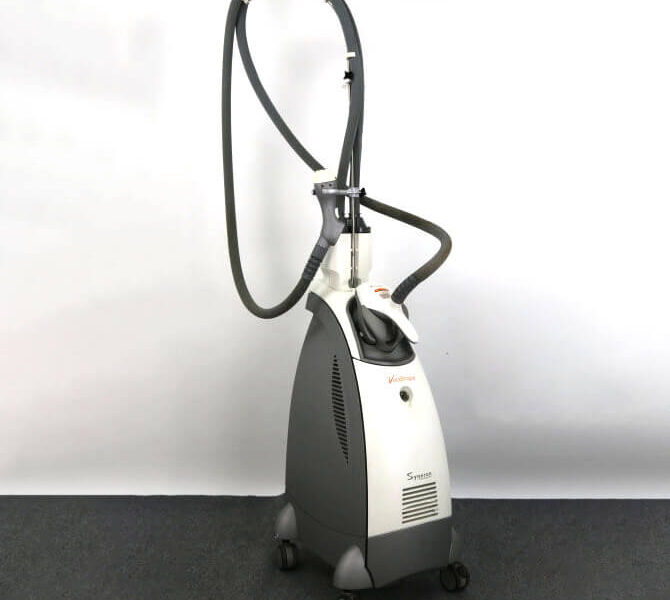 Introducing the Syneron Velashape Cosmetic Laser, a groundbreaking solution in the world of non-invasive body contouring and cellulite reduction. This innovative system is renowned for its effectiveness in reshaping and refining the body, utilizing a combination of technologies to deliver remarkable results.
Technical Specifications:
Energy Sources: Velashape combines Bi-Polar Radio Frequency (RF), Infrared Light Energy, and vacuum technology, offering a multi-dimensional approach to body contouring.
Treatment Mechanism: The synergy of RF and infrared light heats the targeted tissue, while the vacuum and mechanical massage smooth out the skin for a safe, efficient, and comfortable treatment.
Adjustable Parameters: The system allows for precise control over treatment depth, temperature, and duration, enabling customized treatments tailored to individual patient needs.
User Interface: Features a user-friendly interface, allowing practitioners to easily adjust and monitor treatment settings.
Applications:
Body Contouring: Velashape excels in reducing body circumference and improving body contours, particularly in areas like the abdomen, thighs, and buttocks.
Cellulite Reduction: It is highly effective in reducing the appearance of cellulite, offering a smooth and improved skin texture.
Skin Tightening: The technology also aids in skin tightening, enhancing skin firmness and elasticity.
Hand-Pieces:
Contouring Hand-Pieces: Comes with various sizes of hand-pieces, each designed to target different body areas efficiently and comfortably.
Precision Attachments: These attachments allow for targeted treatment of smaller areas with the same efficacy.
The Syneron Velashape Cosmetic Laser is an ideal choice for clients seeking non-invasive solutions for body contouring and cellulite reduction. Its unique combination of RF, infrared light, and mechanical massage offers a comprehensive approach to body shaping and skin tightening. The Velashape system is a testament to advanced technology's role in enhancing aesthetic treatments, providing safe, effective, and convenient options for those looking to improve their body's appearance without the need for surgery.